The GoPro HD Hero2 is an updated version of the GoPro HD Hero. Once you use it you will notice that the biggest difference is the lens. The Hero2 takes sharper images and video footage. This amazing compact camcorder was designed so that you can take it with you anywhere. Extreme sportsman rate the GoPro as one of the best sports camera's ever. The protective casing is GoPro's claim to fame because that it was keeps your GoPro going even after you have taken it skydiving, rock climbing, snowboarding or surfing.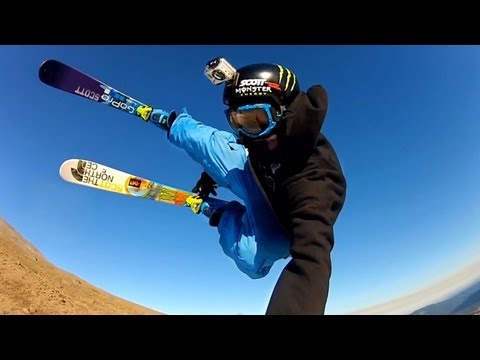 The GoPro is made up of an LCD screen, a wide-angle lens and 2 control buttons. The controls are really simple to use so you don't have to worry about reading a manual for hours. It's easy; click on the front button for the settings menu and a mode for video recording. Click on the top button to start recording, to take a photo or just navigate. Its has a mini USB port so you can transfer your awesome footage or pictures onto your computer.
You have a few different options of angle views from wide (170°) to narrow ( 90° ). The camcorder has a fisheye distortion around the edges of the frame when you use the wide view and a more traditional look when you use the narrow view.
It is small and light so it makes it so easy to strap it on and use it. The kit comes with: waterproof housing, helmet, head straps, adhesive mounts and a three-way pivot arm for mounting in different positions. There are great accessories which you can buy from Incredible Connection like an anti-fog insert, HDMI cable or a car charger.
Price List
GoPro HD Hero2 Motorsport R3999
GoPro HD Hero2 Naked R2999
GoPro HD Hero2 Outdoor R3999
GoPro HD Hero2 Surf R3999
Where you can buy GoPro & Accessories
Canal Walk, Clearwater, East Rand Retail Park, Gateway, Somerset West, The Glen, Cavendish, Cresta, Eastgate, Foureways, Menlyn, Sandton, Woodmead, Alberton, Bloemfontein, Centurion, George, Greenacres, Greenstone, Hemmingways, Highveltd (woodbank), Kollonade, Mall of the North, Matlosana, Neslspruit, Pavillion, Rosebank, Rustenburg, Springfield, Tyger Valley, V&A Waterfront, Vaal Mall, Mall @ Carnival, East Rand Mall.
Click here for the GoPro Outdoor Edition on the Incredible Connection website